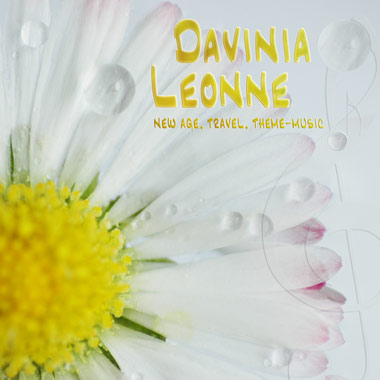 Awareness
---
By: Davinia Leonne
Representing peaceful existence, the heaven on earth. No worries, no fear... but absolutely devotion and faith in divine destiny, absolutely arrival in here and now. Nice for babies as a cradle-song. Association of stars in the sky, wideness, skyline, horizon & infinitiy
By: Davinia Leonne
Davinia Leonne has worked on many new age projects and films dealing with esoteric and medical themes, wellness and massage, erotic and sportclips - for travel & wellness companies, TV Channels and DVD Productions. She wrote music for Germany's famous Yoga Teacher Inga Stendel and Qi-Gong Master Petra Hinterthür. The Mystic Path was her first album, and her new Yoga CD is appearing on Soulfruit Connection. Davinia studies music in Berlin, where her music has appeared in many productions, from Camäleon, Busch Production, Filmhaus Wiesbaden, and the new Playboy Addendum CD.
Duration: 8:23
Tempo: Pending
Vocal Type: Instrumental
Genre:
Spiritual Music
Subgenre:
Inspirational
Catalog ID: 474095
Keywords: Flowing Floating Qi Gong Yoga spa meditation dream trance-massage healing-work light love balance healthy well-being heartiness contentment freely soulful home empathetic insightful perceptive moony moonily dreamy dreamily coltish playful moving evocative agitating brilliant glossy sanguine healing health wholesomeness satisfaction angelic heavenly superlunary ethereal celestial freedom loose mind psyche to be at rest amorous erotic sensual tantra tao sexuality tender fondness caress affectionateness endearment fondle tenderly endearingly sex meeting heart singing bowl heal soul tangency touch delicate sensitive love tangentially tangible longing yearning for nostalgia nostalgic animal children butterfly water sea ocean fish stream flower heaven moon sun lake swim calm calmness serenity aplomb composure dispassionateness equanimity sedateness feeling of security feel secure safe snug blitheful cheerful festive blithesome blitheful hayppy joy joyous jolly merrily mirthful merry thankfulness gratitude gratfulness spiritual spirituality divine humbleness god universuum unity oneness entity being existence

Description: Awareness, Spiritual Music, Inspirational, Music for shops, restaurants, lounges, stores, chains, hotels, airlines, on-hold phone systems, and more.