Local Caching Service
---
Learn about the exciting store-and-forward capabilities we offer for local storage and playback of your music.
Caching Service
Our music file caching service requires the use of special software or hardware. For a software implementation, we freely provide both our R-Box Pearl and RS-PLAY software apps. Or alternately, if you need a dedicated hardware player device, you can utilize the R-Box Pearl player devices as discussed further below.

Whether you use the R-Box Pearl or RS-PLAY software on your own computer or a dedicated computer player device, when using the Caching service, the music files download from our server system and are stored on your player device for local playback. This is ideal for commercial uses because it protects playback from transient Internet outages that can occur from time-to-time with your Internet service, ensuring continuous and uninterrupted music at all times.
---
R-Box Pearl Software Player
You can quickly implement the locally-cached music playback capability by installing our R-Box Pearl software.

This software, available for free for use with a paid subscription, runs on Android and Microsoft Windows. To learn about and download the R-Box Pearl software now, see this article.



---
R-Box Pearl Hardware Player
Our premier product for our in-store audio, this audio player is developed in-house and can be used for either streaming or caching playback. Providing a very simple plug-and-play deployment, it's as easy as plugging it in, configuring the player's Device ID and Security Token in the app's Settings screen and it starts to play immediately! Then control which stations it plays via an easy point-and-click schedule setup.

The R-Box Pearl can fit in the palm of your hand but is a very powerful computer that can store well over 1,000 tracks on the device for local playback, perfect for in-store retail chains, hotel/cafe/restaurant chains, and similar.

Available for immediate purchase for $124.95 (plus shipping), please contact us today to inquire about pricing for multiple units.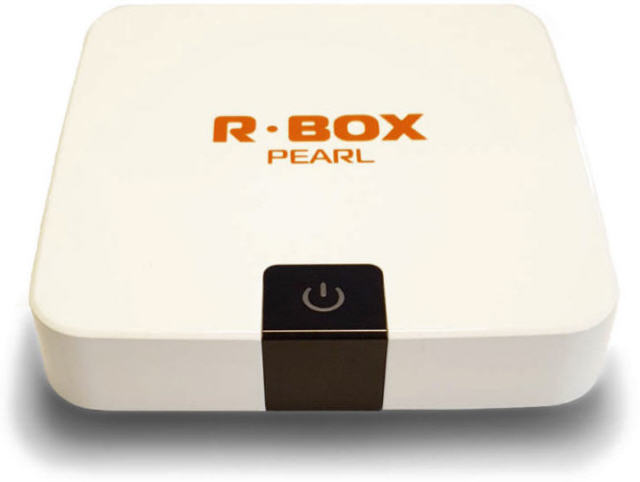 R-Box Pearl
Learn More Here
---
Lisa Compact/LCD from Streamit
A well-known hardware player solution with a great reputation for rock-solid operation, the Lisa devices provide a robust solution that works extremely well for business clients wanting a pure live-streaming solution. Made by Streamit, based in the Netherlands, the Lisa devices support optional rack-mounting and also offer advanced developer features if needed.

Lisa Compact and Lisa LCD Players
Learn More Here