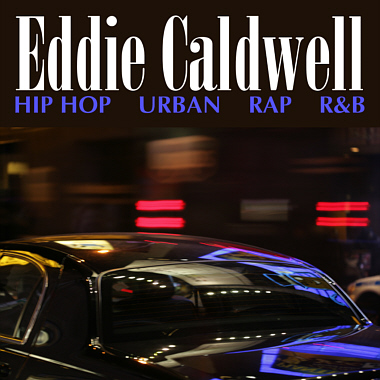 Jacob's Ladder Feat Swolts
---
By: Eddie Caldwell
This song is a super funky song with dr dre/zapp style guitar leading the way. It has a strong hook, with a tupac, 50cent, feel. It's funky, groovy, mysterious, and would work well in bars, car chases, trailers, etc. This is a G-Funk mover! West Coast Flavor. Jazz and Pimped out, curtis mayfield
By: Eddie Caldwell
Chicago heavyweight Eddie Caldwell rolls with hot music in genres like Soul, RnB, World, Funk, Latin, Hip Hop, Rap, Jazz, Urban, Blues, Rock, and Pop -- often combined with elegant Orchestral backings. Tracks have appeared in Film, TV, Video Games, and Webcasts, as well as in-stadium events and other live applications. Many tracks were mastered by Stevie Wonder's engineer, Danny Leake, and consequently, have very high-quality production value. With cool grooves and great storytelling, these tracks often feature multiple top-notch singers and musicians.
Duration: 6:14
Tempo: Med Slow
BPM: 94
Vocal Type: Male Rap & Vocals
Genre:
Hip Hop Music
Subgenre:
Political Rap
Catalog ID: 511549
Keywords: adverts. pimps. Party, Moves, Sexy. Fine, Hot, Body. Espn, fight scenes, Addict, DJ Quik, nfl, extreme sports, Adult films, drugs, neighborhood, candy store, beach, pretty women, radio, 1979, snow, summer, fist, black power, ohio players, psychedelic, drugs, jackson 5, maxwell, groove, funky music, black panthers, side burns, mafia, mob, ghetto, stevie wonder, earth wind, and fire, tv show, starsky and hutch, baretta, quincy jones, stack shoes, karate movies, good times, jeffersons, sanford and son, club, drinks, soul train, saturday night fever, donna summer, partliament, funkadelic, bootsy, gap band, commodores, rick james, ohio players, american band stand, red hot chili peppers, ojays, tupac, snoop, r kelly, biggie, claim, dollars, bounce, roll, fully loaded, baretta, ice cube, lox, little wayne, gucci mane, rick ross, lil john, dudes, new york, south shore, outcast, fat joe, cameron, kanye west, dr dre, timerland, pharrell, will i am, roots, justin timnerlake, funk, ice, swiss beats, cool &dre, method man, eminem, nelly, twista, puff daddy, p diddy, craig mack, scarface

Description: Jacob's Ladder Feat Swolts, Hip Hop Music, Political Rap, Music for shops, restaurants, lounges, stores, chains, hotels, airlines, on-hold phone systems, and more.