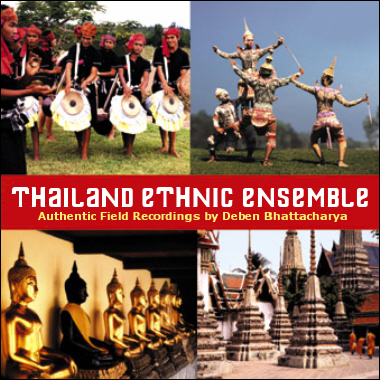 Ramakien (Dance-Drama)
---
By: Thailand Ethnic Ensemble
Exotic and upbeat Thai music dance song with ethnic percussion and xylophone-like instruments
By: Thailand Ethnic Ensemble
This music presents live field recordings made in Thailand in 1973 by ethnomusicologist Deben Bhattacharya. This is absolutely original and authentic traditional Thai music using authentic instruments such as the Khawng wong yai (gong circle), Ranat ayk (boat-shaped xylophone), Ranad thum (box-shaped xylophone) and Glawng ta phon (a pair of large wooden drums).
Duration: 7:05
Tempo: Mixed
Vocal Type: Instrumental
Genre:
Asian Music
Subgenre:
Thai Folk and Traditional
Catalog ID: 364504
Description: Ramakien Dance-Drama, Asian Music, Thai Folk, Music for shops, restaurants, lounges, stores, chains, hotels, airlines, on-hold phone systems, and more.