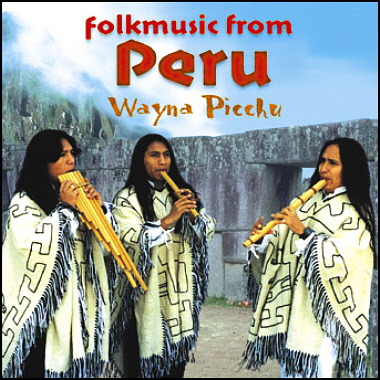 Espiritu Inka
---
By: Wayna Picchu
Folk Music from Peru
By: Wayna Picchu
Wayna Picchu is a young Peruvian group of brothers who, from early childhood, learned to play the various pipes and flutes that have defined Andean music for centuries.   While playing traditional rhythms, their tracks have a slightly more contemporary, up-dated feel. In addition to the more traditional instruments they also use keyboards and bass.   Wayna Picchu's music represents the quintessential sounds of Peru, and would be perfect for travel, trekking, and Peruvian, Pre-Columbian, Incan or Andean themes.
Duration: 6:04
Tempo: Slow
BPM: 77
Vocal Type: Instrumental
Genre:
Latin Music
Subgenre:
Huayño
Catalog ID: 66947
Keywords: Andes, Peru, Folk Music

Description: Espiritu Inka, Latin Music, Huayño, Music for shops, restaurants, lounges, stores, chains, hotels, airlines, on-hold phone systems, and more.